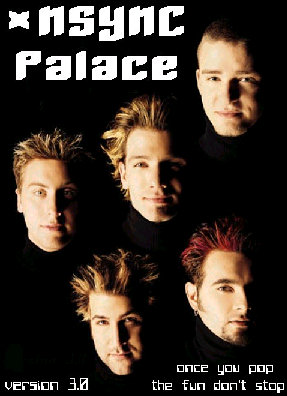 Welcome!
As almost everyone knows, *NSYNC Palace has just reopened with a completely new look and tons more to see and do! Unfortunately, not everything is up yet. But I'm sure everyone's tired of the delays, so we're posting what we have (which is a lot, btw). Keep checking back for constant additions and specials, including the contest, which will start early next week, and the posting of lots of concert experiences. Anything that turns up a blank page will be working in a few days, so be patient, come on back, and tell us what you think!


In SCOOP, get tv dates, tour dates, news on new releases, and much more to keep you totally up to date.
Navigation Info
In SUPERMAN, learn more about each of the guys and the group with pics, quotes, bios, and lots of other fun stuff.
In BOUNCE, you'll find fan fic, lyrics, links, tributes, theme songs, wallpaper, quizzes, contests, sounds, and tons more to see and do.
In LUCKY, get closer to the guys with concert accounts, stories of meet and greets and sound check parties, info on what you can do to support the guys, a bunch of ways you can contact *NSYNC, and more.
In SHAZAN, find out what's been updated at the Palace, check out awards *NP has won, send the site an e-mail, sign or view the guestbook, and find out more about the site.


Click above to tell the world why YOU stay away from drugs.