Though *NSYNC is heads and tails above the rest, we all still enjoy other music. This page is where we give our shout-outs and props to other musicians, often ones you haven't heard of before, that we love and think deserve some praise. We've got a triple feature here, just 'cause we couldn't decide. :-) Check 'em out, and thank us when you start lovin' their tunes, too.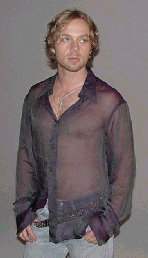 Formerly of amazing Austrailian duo Savage Garden ("Truly Madly Deeply," "I Knew I Loved You," "Crash and Burn") Darren is now venturing out on his own. The group split after Daniel Jones decided to pursue other interests, but Darren is going solo and going strong. His first single, "Insatiable," is fantastic, and his first album, "Spin," will be out this spring. Darren's music and lyrics can only be described as magnificent, so check him out.
Rhona has been fairly quiet in the past few years, until now. Think she looks familiar? That's because as a teen she starred opposite JC and Justin on the New Mickey Mouse Club. Her voice was really impressive then, but it's her music that's impressing people now. Her first single, "Satisfied," was climbing the charts, and you can be sure that's not all you'll hear from this talented R&B singer.
Hopefully you've heard of Craig David already. Maybe it was his extraordinary first single "Fill Me In" that caught your attention, or his hot second signle "7 Days." In any case, Craig has a totally original style (including the two-step sound that *NSYNC sampled in "Up Against The Wall" and "The Two Of Us") and a totally killer voice that makes his CD one of my absolute favorites. His website is totally slick and completely interactive, too, and the picture section is highly recommended. :-p