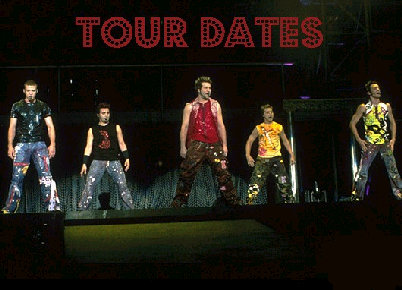 Yep, *NSYNC's at it again - the 2002 Celebrity Tour is headed to dozens of cities in March and April! Have you gotten your tickets yet? Check out the latest dates below, courtesy NSYNC.com, but remember to always check with the venue before making expensive travel plans, okay? Enjoy!
New Tour Info?
Can't Get Enough of *NSYNC Live?
Then hop on over to the "Lucky" section, where you''ll find concert accounts from the beginning through POPODYSSEY, plus meet and greet/sound check party stories!
2002 Celebrity Tour
Dates and Venues

March 03 Portland, OR Rose Garden
March 04 Tacoma, WA Tacoma Dome
March 06 Oakland, CA Oakland Arena
March 07 Sacramento, CA ARCO Arena
March 08 San Jose, CA Compaq Center
March 10 San Diego, CA SD Sports Arena
March 11 Anaheim, CA Arrowhead Pond
March 12 Anaheim, CA Arrowhead Pond
March 14 Anaheim, CA Arrowhead Pond
March 15 Las Vegas, NV MGM Grand Garden Arena
March 18 Houston, TX Compaq Center
March 19 San Antonio, TX Alamodome
March 20 Dallas, TX Reunion Arena
March 25 Denver, CO Pepsi Center
March 27 Ames, IA Hilton Coliseum
March 29 Grand Forks, ND Alerus Center
March 30 Minneapolis, MN Target Center
April 01 Auburn Hills, MI Palace of Auburn Hills
April 04 Rosemont, IL Allstate Arena
April 07 Buffalo, NY HSBC Arena
April 10 Uniondale, NY Nassau Coliseum
April 11 Uniondale, NY Nassau Coliseum
April 13 East Rutherford, NJ Continental Airlines Arena
April 14 East Rutherford, NJ Continental Airlines Arena
April 15 Boston, MA FleetCenter
April 16 Boston, MA FleetCenter
April 18 Philadelphia, PA First Union Center
April 21 Washington, DC MCI Center
April 22 Pittsburgh, PA Mellon Arena
April 28 Orlando, FL Waterhouse Centre