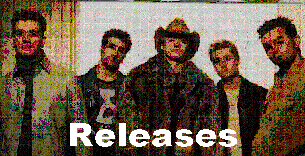 COMING SOON
May 15 - This is the date of the release of the brand-new *NSYNC single, "Pop," to radio, which means it should be in stores soon after. (Yes, for those who've been paying attention, that is a slight delay from the original April 24 estimate. But *NSYNC are the kings of delays, so this one is tiny compared to, well, NSA!) "Pop" is a uptempo number from *NSYNC's brand-new album, Celebrity, which comes out this summer. (see below) BTW, You missed a treat if you missed May 11's TRL - They previewed 2:20 of the song from their rehearsals, and it's fantastic!
July 24- New *NSYNC album Celebrity to be released. Yup, a delay already. I was praying for the June 26 release, but alas, they had to push back the date in order to make the album the best it can be. The thing is, for NSA, "It Makes Me Ill" was the reason we waited, and it became many fans' favorite song! Hopefully, No more delays will be needed and we'll get this album before the summer's over!
RECENT 2001 RELEASES
February 6/13 - "Making The Tour" scheduled to be released on video and DVD. Contains new footage of the guys on their "No Strings Attached" tour! It's officially out now (only about 7 delays ;-) and you can get your copy wherever videos are sold!
PAST 2000 Releases
October 24 - "Live From Madison Square Garden" relesed on video and DVD. Check out
NSYNCdirect.com
for your copy!
November 7 - "The Grinch" soundtrack released, featuring an *NSYNC song written by JC entitled "You Don't Have To Be Alone." It is the most amazing song I've ever heard!!!
November 14 - "A Platinum Christmas" released, featuring many current artists singing Christmas favorites and originals. *NSYNC's contribution is a beautiful song entitled "I Don't Wanna Spend One More Christmas Without You."
Continuing...
*NSYNC@MSN Internet Access
Special *NSYNC edition of Teen People when you subscribe now!