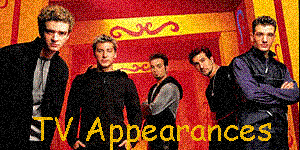 Here is *NSYNC's latest schedule for TV appearances, as of 6-29-2001.
July 23 - The Tonight Show with Jay Leno - Want a preview of what you'll catch here (besides another sampling of "Pop")? Check out last year's Leno appearance, which featured JC spilling his underwear choice and an audience member responding, "Can we see?" (hmmmm...) NBC @ 10:00 pm CT.
August 20 - The Today Show - Times Square will rock with the sounds of "Pop" in NBC's early show. Tune in starting @ 7:00 am CT.