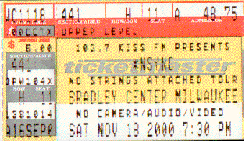 Imagine my excitement when, at 10:27 am September 16, 2000, while standing at the ticket desk of a certain grocery store here in Wisconsin, the clerk said those magic words, "Here are your tickets, sir." My dad had just bought me and three friends tickets for the Milwaukee show of the second leg of *NSYNC's No Strings Attached Tour. Waiting the two months until the concert seemed virtually impossible, but the day finally came on November 18.
The line outside the Bradley Center that night was hundreds of people long, and the temperature was dipping down into the 20s, but it moved fast and we were soon in the stadium. Of course, I had to buy the program
*see pic*
and an awesome t-shirt (if you don't have the NSA program, you need it, it's amazing. Last time I checked NSYNCdirect.com, it was out of stock,
but check if it's stocked now!
)
My buds Kelly, Nicole, Lauren *yes, that makes two* and I sat in Section 441, Row H, Seats 11-14 and ended up having a very good view for balcony seats. We anxiously awaited the first opening act and passed the time playing our favorite *NSYNC-related "I Spy" game (i.e. "What does that Wisconsin Badgers banner have to do with *NSYNC?" Answer: "It's vivid red, which is Lance's favorite color according to the official book!") Yeah.
Anyway, at about 7:40, girl group Dream came on for a three-song set to partially warm the crowd. They were pretty good, but their first single "He Loves U Not" is definitely their best. They danced and sang well but didn't get to showcase their talents in three songs.
Next up were the infamous Baha Men, making their first appearance on *NSYNC's tour. Although we were skeptical about what they could do (like, bark at the audience for 30 minutes?) we were pleasantly surprised by their good singing abilities, cool dance moves, and nice bodies (two of the guys' shirts came off before they started their third song). They played five songs, the last of which was, of course, "Who Let The Dogs Out" which they spent about 10 minutes on, having us bark (and meow for a bit) until we felt like dogs. They seriously warmed the crowd, though, and we were primed and ready for the guys to grace us with their presence.
While the lights were up we anxiously watched the crews that were onstage messing with the harnesses the guys would soon be in. We screamed and waved at anybody we could - band member, crew, bum who happened to jump onstage, it really didn't matter. We were psyched.
Finally, finally, finally, at God knows what time, the stadium went black. The screaming was absolutely deafening but after a few seconds everybody got used to it. The only light came from the audience's glow sticks and a tiny strobe-like light that was on the other side of *NSYNC (now ready to drop from the ceiling) from us so we could periodically see the guys' bodies hanging there. *Sitting on the side has its perks!* Then the big *NSYNC curtain dropped, the stage lights came up, and there were our favorite boys, hanging from the top of the stage setup. That cute little Pinocchio song ("I have no strings to hold me down . . . there are no strings on me!") played, then the guys were lowered to the stage. They took off their strings one by one to some techno music, but magically flew again (this time by invisible wires). Finally they were on the stage again and we heard, "Baby, you're not the only one!" to begin "No Strings Attached." It was so amazing, and we especially loved the part where Justin makes the pyro go off at the beginning of his verse. I swear there are not enough ways that a body can express the fact that it is totally freaking out.
"I Want You Back" was next, featuring the classic *NSYNC moves that we all know and love. Joey did his little crowd-teasing, "Uh, uh, I want you back, baby..." which everyone loved. And they did their flips, but JC missed his *we still love you!!!* After IWYB was done, the guys left the stage, but not for long!
Lance came back out and told us how excited they were to be continuing their NSA tour with us. He then said they were going to do a song that best described how they felt about each and every one of us in the audience that night. The rest of *NSYNC joined Lance, their coats now gone, to do a really magnificent version of "God Must Have Spent A Little More Time On You" in which Justin had the crowd sing along. At the end they got up on five tiny platforms that rose about 25 feet in the air. To be honest, the guys looked pretty scared, but who wouldn't be? It was just an incredible performance.
The video screen came on just then and our favorite MTV VJ (besides Carson) Ananda Lewis came on to tease the crowd. She told us *NSYNC were now our personal slaves so we got to choose what song they did next. Upon being given the choices "Yankee Doodle Dandy," "Three Blind Mice," "Twinkle Twinkle Little Star," and "Tearin' Up My Heart," the crowd almost unanimously chose the latter. *NSYNC jumped onstage again in casual shirts and their patched pants. It was *NSYNC at their finest featuring the fan favorite "When I say 'n', you say 'sync'," shout-along. The guys did a cute pose at the end halfway up the right side catwalk that was reminiscent of their pose at the end of the TUMH video.
Justin came right back on afterwards, in what we affectionately call his "painting clothes," to do his now-infamous beatbox. He was really good at it and was so cute battling with the drummer! He seemed to thoroughly enjoy shaking his booty for the crowd, and I think I speak for everyone when I say we thoroughly enjoyed it, too!
The guys came back in their brightly colored and tye-dyed muscle tees and parachute pants to do a perfect rendition of "It's Gonna Be Me." I can't ell you how cute they all are when they put their heads down then pop back up for the "It's gonna, gonna, gonna..." part. You think you hear this song enough with all their talk show appearances and 65 straight days on TRL this summer, but it is so totally different and amazing to see it live.
Next the stage was transformed into a living room scene and the guys came out one by one with towels and water bottles while Chris told us how grateful he was to all of us for supporting *NSYNC like we did. We let him know we were more than happy to show them love and he launched them into a beautiful version of "I Drive Myself Crazy." Being the JC-lovin' gal that I am, I almost died at how beautiful his solo part was.
After IDMC, Justin made the comment, "It's cold outside tonight, but I can feel the heat in here!" He asked us "How you feelin' Milwaukee?!" and we answered with the loudest, most ear-piercing screams I've ever heard. They lasted so long that Chris sat down on the couch and pretended to yawn. "That's the best response we've gotten all tour!" Joey added. Then Justin started in on Joey's new bright-yellow hair, saying he was trying to be a cheesehead now that they were in Wisconsin. When he asked Joey how we were supposed to tell him and Lance apart, Joey responded with, "Well...I have a bigger nose!"
The guys were really entertaining the crowd, but they soon buckled down to sing for us again. The amazing acapella "I Thought She Knew" followed, with its perfect harmonies and sweet lyrics. Everyone sounded fantastic and showed a lot of emotion in their singing.
As they left the stage, the video screen showed *NSYNC entering a sort-of carnival fantasy world with everything from clowns to monkeys and fire-breathers to basketball hoops. As the guys finally sat down in front of a TV, the question was "Where's Lance?" They soon found him while channel surfing, on "Who Wants To Be A Millionaire" and stuck on the million-dollar question. Since calling the guys for one lifeline was no use, Lance decided to poll the audience on his last chance to answer the Pokemon question. Justin instructed us as to what we should do to help Lance and was extremely cute with his pinkie-finger Dr. Evil impression when he said "one million dollars." Thankfully we got the question right and were rewarded with money flying everywhere.
The guys bounded onstage in their fun (if not gaudy) "Just Got Paid" outfits for an awesome rendition of that song. They had lots of cute booty-slappin' dance moves and props to make the song come to life. Justin and Chris showed of their original rap, and JC was sweet as always when their bodyguard wouldn't let them into "The Klub." Each guy had piles of money that he threw out into the crowd throughout the song.
JGP had hardly ended before *NSYNC jumped onstage again for "Space Cowboy." JC was amazingly good as he began the song, dancing around the stage and putting such feeling into the words he sang, in true JC-style. It's easy to see he takes great pride in singing the fantastic songs he writes. Their moves for this song were truly original but still very cool. The best are the different "Wi-yi-yi-yipee-yi-yay..." dances that come with each new verse. In a flash they were gone again, only to return moments later for more.
We heard sirens and people yelling and the video screen showed a chaotic street scene where someone had obviously been hurt. When the lights came up we saw Dr. Chris using electric shock paddles to attempt to resuscitate Justin. After two tries, Doctors JC, Joey, and Lance looked as though they had lost hope of saving him when Justin popped up singing "I was hangin' wit da fellas..." to begin "It Makes Me Ill." The guys staggered around the stage as if they were sick throughout the song. At the end, the video screen showed a flatline and the guys fell to the floor (JC does the most dramatic - not to mention cutest - fake death I've ever seen!)
Then *NSYNC grabbed some stools and sat in the middle of the stage, all ready to perform "This I Promise You," when JC stopped them. "I'm feelin' this audience guys," he said, "and I think we should get a little closer to them." Totally contrary to the HBO special, Chris grabbed his stool and moved it so close to the front of the stage that everyone was sure he'd fall. The rest of the guys looked confused, but JC continued his part anyway, making everyone join Chris up front minus their stools. Justin told Chris to put his chair away, and when he didn't, Justin pulled it out from under him and put it back with the others. As JC started to say he wanted to get even closer, Chris ran back to his stool, hugged it to his chest, and asked the guys if he could bring his stool with him. When Justin answered a firm, "No," Chris whimpered, "But it's my security blanket!" The audience was loving this, and freaked out even more when Joey offered to get closer by stage-diving. "Y'all will catch me, right?" he asked a group of front-row fans. Justin finally got Chris back on the platform, and when it started to move, continued to hold onto Chris so he couldn't jump off. Justin actually looked scared Chris would fall! JC then explained to Lance that they would be spending some time with the people "back there" and they launched into the most beautiful love song in the world. I almost died for the second time listening to JC's gorgeous voice sing his part. The guys mad a big effort to acknowledge everyone in the audience, with JC pointing at our section as he belted "Over and over I fall...". It was truly magical.
The guys returned to the stage, introduced their band, and left, but everyone knew that wouldn't be the end - *NSYNC hadn't performed their biggest hit yet! The video screen pulsed with the *NSYNC logo and the audience chanted along. It seemed like forever before the video screen changed to a computer screen and we saw the words "log_on." Just as our guys jumped onstage for "Digital Get Down," I started to feel dizzy and my body began to tingle all over, like your foot would do if it were about to fall asleep. I had to sit down and breathe deeply and pray that I didn't pass out for a few minutes, totally missing DGD. Sorry! It did teach me that it's quite possible to faint at an *NSYNC concert - I was thisclose to doing it myself. I did feel better after a few minutes and though I hadn't stopped tingling I pulled myself up for the last song.
Most people think "Bye Bye Bye" is all the same after you've seen it a few (hundred) times, but I'm here to tell you that it is all new when it's live. The guys electrified the stage, pulling out all the stops to make their last song their best. The moves were perfect, the sound amazing, and the guys cute as ever. They took their last poses by the back curtain as fire exploded all around them. All of a sudden, they were gone, the lights were up, and people were filing out.
All I can say about the show is that it moves to a unanimous #1 on my all-time greatest concerts list, and I'll bet it stays there forever - or at least until *NSYNC tours in 2001!!!